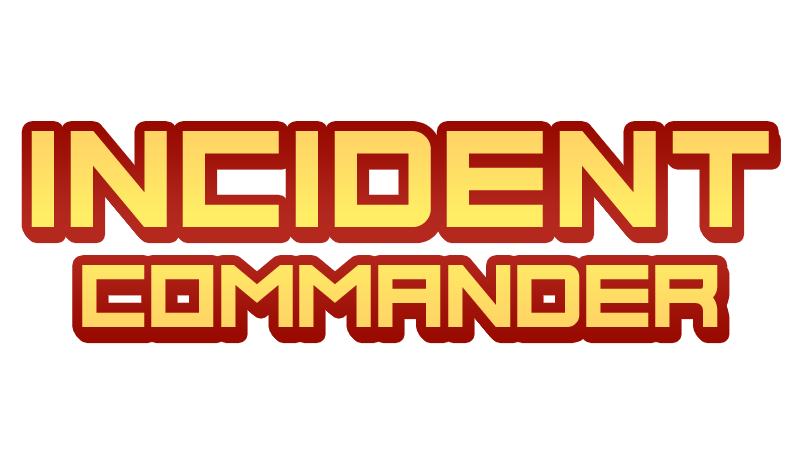 Incident Commander is a cooperative real-time strategy game where you command teams of emergency responders to save your city from disaster.
Looking for the original Incident Commander training program? You can find it here.
About Incident Commander
Developer
BreakAway Games
Hunt Valley, Maryland
Release Date
Early Access: August 19, 2019
Platforms
PC (Windows/Mac)
Description
Incident Commander is a cooperative real-time strategy game where you command teams of emergency responders to save your town from disaster. As the acting Incident Commander, the safety of your crew and the public is your top concern… but the mayor is also watching. Protect the city and stay under the budget and rise to the top as the hero of the town!
Features
WATCH YOUR SQUAD: Deploy and control police, fire crew, EMS and dozens of vehicles to contain and neutralize incidents over 8 unique missions.
BE PREPARED: Utilize equipment the right equipment for the job. Authorize the use of vehicles and buildings to further keep the impending disasters at bay!
SOUND THE ALARM: Cooperative real-time multiplayer supports up to four players.
PLAN AHEAD: Role selection system and mission objectives allow you to organize and coordinate your missions the way you want.
COMMUNICATION IS KEY: Dedicated Discord server have staff and players on hand to assist you should you ever need backup.
IC's Breaking News
This patch build fixes the issue for certain MacOS where the game crashed after launch. We apologize for any annoyance this caused. Enjoy! There was also an issue with squad icons not displaying on certain test machines. This has been fixed except for one stubborn Windows laptop test machine that still displays white circles instead of the squad icons. If you experience this issue or any other, please bring it to our attention. We can't promise a quick solution, but we do pay attention. Good luck, Commander!
We have released a new update build, version 2209, that adds a new mission and fixes some multiplayer issues. [h3>New Content[/h3> [list> [*> Flood mission [*> Search and Rescue (SAR) boat [*> Throw Bag order (available to Firefighters and CERT) [*> New Steam Achievement [/list> [h3>Multiplayer Synchronization[/h3> We investigated and fixed a number of synchronization issues that were interfering with multiplayer sessions. During these sessions, the host and client players might see different movement of squads or different outcomes of objectives. We did our best to track down these issues and fix them. However, if you notice any difference between the host experience and client experience that interferes with completing a mission's objectives, please bring it to our attention. Thank you!
We have released a new patch, build 1634, that fixes three discovered bugs: [list> [*> Missing Hiker event: The bug that prevented the player from giving First Aid to the missing hiker is now fixed. [*> School Shooting mission: Sometimes the shooter would find an angle to fire through a closed door. This is now fixed, and all staff and students inside locked rooms are now safe. [*> School Shooting mission: There was an issue with repositioning school staff inside a locked room which made the staff person move to the door instead of to the point ordered. This is now fixed. [/list> The School Shooting mission is perhaps the most challenging, and these last two fixes should improve your chance of success. Good luck, commander!